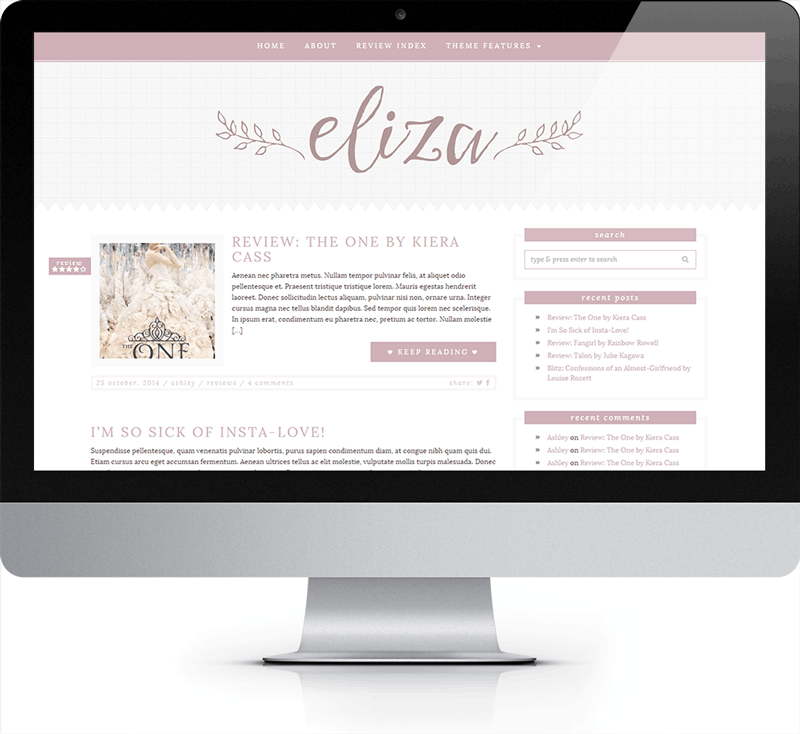 Nine different colour schemes
Click on each different colour box to change the colour scheme.
All the features you need in a simple, feminine theme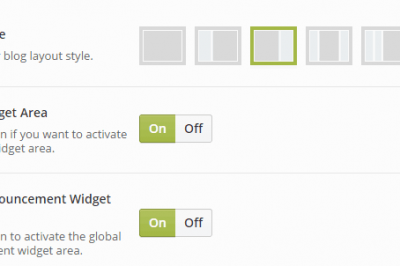 Some of the theme features include:
9 colour schemes
6 layout options
Footer widget area
Global announcement widget area
Upload a custom header image (or use text)
Upload a custom background image
Change fonts for: paragraph text, headings, post title, widget titles
Display excerpts or full posts on the homepage
WooCommerce ready
Responsive design
And look at these super cute share buttons!

I want to pinch their adorable little cheeks—that's how cute they are!
See them for yourself on the demo.
Build your own homepage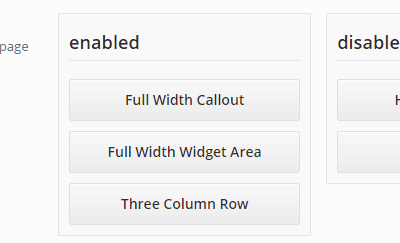 Eliza allows you to choose a static homepage over displaying your blog. But it also comes with four widget areas specifically for the homepage!
Full Width Widget Area: This widget area spans the whole page. Any widgets you add to it will stack one on top of the other.
Full Width Callout: This is identical to the full width widget area, except the widgets will have a coloured background area and white text.
Half Column Row: This widget area is in a "half column" layout. That means there will be two columns, each spanning 50% of the page. There are two widget areas for this: one for the first column, and one for the second column.
Three Column Row: This is a "three column" layout. There are three widget areas in total, each spanning 33.3% of the page. Together they line up to make a complete row.
See what's possible on the homepage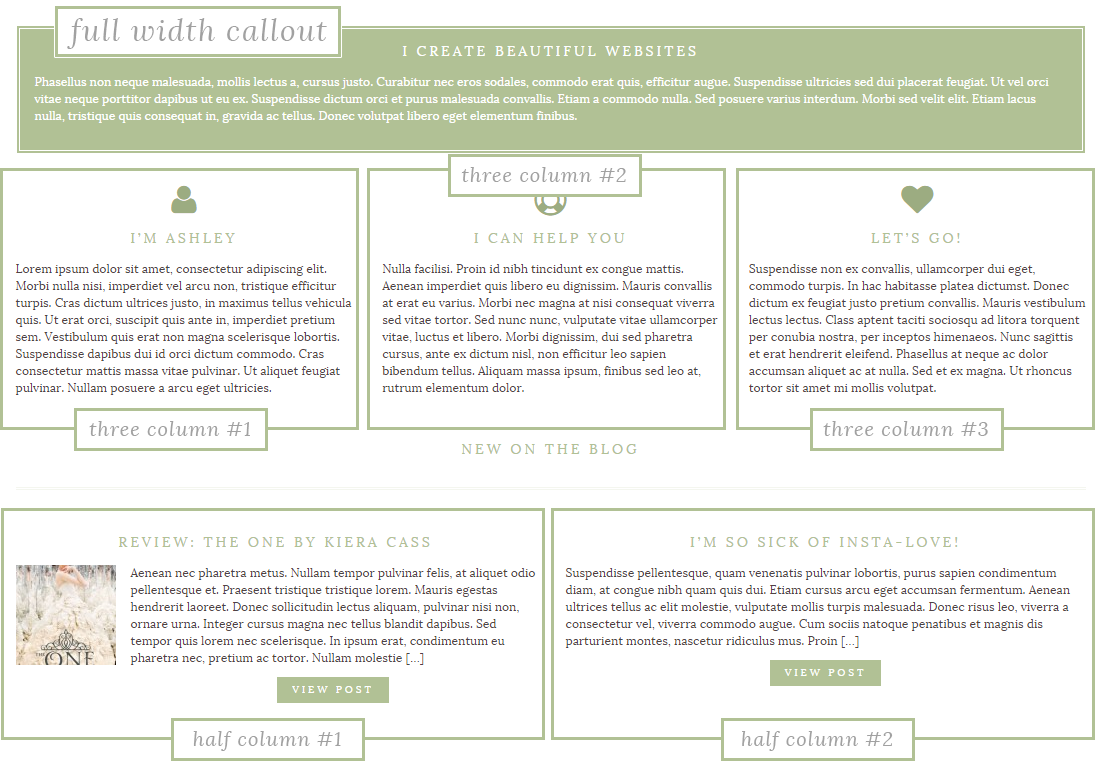 This sample layout uses:
A text widget in the "Full Width Callout" area.
One "CW Icon Box" widget (see below) in each of the "Three Column Row" widget areas.
A text widget in the "Full Width Widget Area" (for the "New on the Blog" text).
One "CW Recent Post" widget (see below) in each of the "Half Column Row" widget areas.
This is just one example. You can completely customize your own layout using widgets, text, and even your own HTML!
Built-in image slider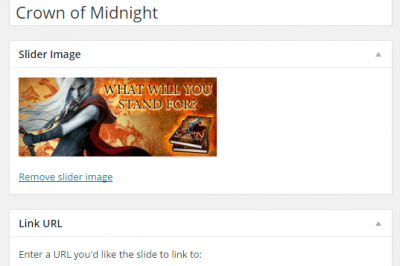 The Flexslider is built-in to the Eliza theme. You can activate and display it on the homepage, using the graphical interface to drag and drop it into the position of your choosing.
You can also choose to show the image slider on the blog page. You can pick from two different display locations: above the posts and sidebar, spanning the whole page; or just inside the post column.
Three custom widgets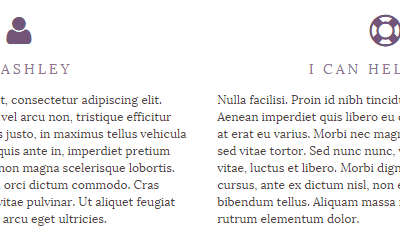 I've packed in three custom widgets into this theme. These are particularly great for customizing the homepage, but they can be used inside any widget area.
CW Feedburner: Quickly and easily add a "subscribe via email" box to your sidebar. All you have to do is enter your Feedburner username.
CW Icon Box: This is perfect for creating a unique widget with a graphical icon at the top, followed by a title and custom message. Look to the left for an example! You can use any icon from Font Awesome.
CW Recent Post: Ideal for placing on the homepage, you can use this widget to display an excerpt from one of your recent posts.
Your gorgeous theme is waiting
Eliza Theme
$39
A copy of the theme
Website, blog, and e-commerce support
Access to the theme documentation

Lifetime* support
Automatic updates for 1 site for life*
This theme will ONLY work on self-hosted WordPress blogs. It does not work on Blogger or on the free WordPress.com platform.

* "Lifetime" or "life" refers to the life of the product—not your human life. As long as the product is being sold, you will receive support and updates.