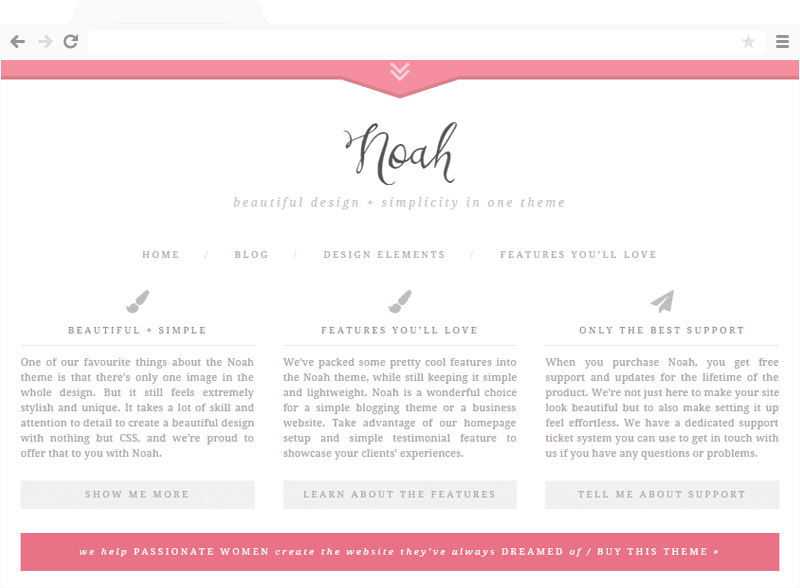 Comes with lifetime support and updates. (For the lifetime of the product—not your lifetime!
Requirements:
This product will ONLY work on self-hosted WordPress websites. It will not work on Blogger or on the free WordPress.com platform.
Don't do yourself a disservice
We can spend all day listing the features and perks of the Noah theme, but there's nothing like seeing it for yourself. Feast your eyes upon the beauty and simplicity of this design by visiting the demo site.
If that doesn't convince you that Noah is the theme for you, then nothing will!
Beautiful simplicity for your blog or business
Noah is a no mess, no fuss kind of theme. We designed it to be incredibly elegant and classy. We're extremely proud of the fact that there's only one image in the entire theme. That makes it very dynamic and lightweight. We've spent time paying attention to detail, typography, and spacing, in order to deliver a gorgeous design that we know you'll love!
We decided not to include your typical sidebar when designing Noah. We want it to be all about the content. So when you visit the blog page, that's all you see—content.
But we know widgets are still important, so we've included two other places you can put your widgets. The first is a super unique tab at the top that slides down when you click it. When expanded, it reveals three columns of widgets. You can add anything you want in all three of those columns!
Second, there are three widget areas (again, three columns) in the footer. This gives you more room to add your subscribe box, social media icons, or show off your popular posts.
Oh and that gorgeous header font? We're using and highly recommend the Rushistly font.
Set up your homepage like a pro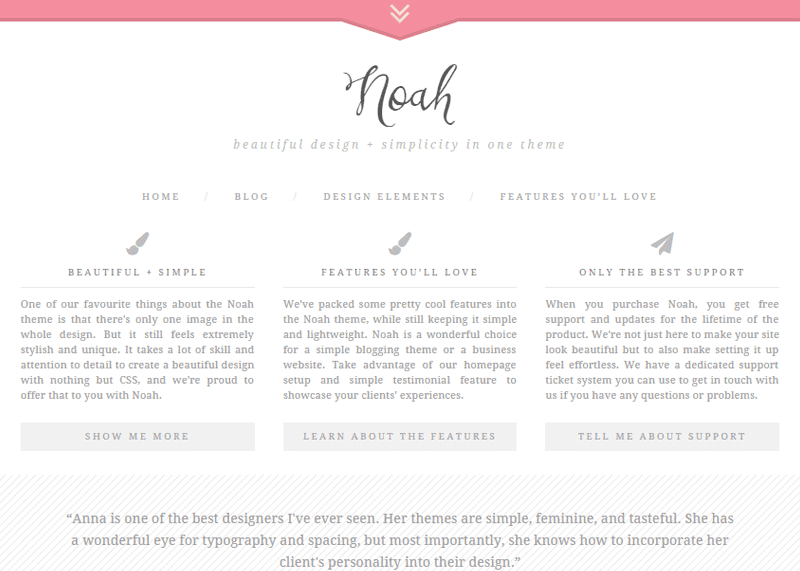 With Noah, it's ridiculously easy to create a professional homepage for your website. We've added four homepage widget areas and custom widgets that make it super easy to build it exactly the way you want.
We've even written a guide to help you get it up and running exactly like the demo site.
The homepage has a few different sections:
A built-in image slider at the top.
A space for you to add miscellaneous text/images (this is the normal text box when creating the page).
Three widget areas for three columns. On the demo site we used the "Icon Box" widgets for this.
A full width widget area. On the demo site we put the call to action widget here.
A spot to display a random testimonial.
Let everyone know how much your clients love you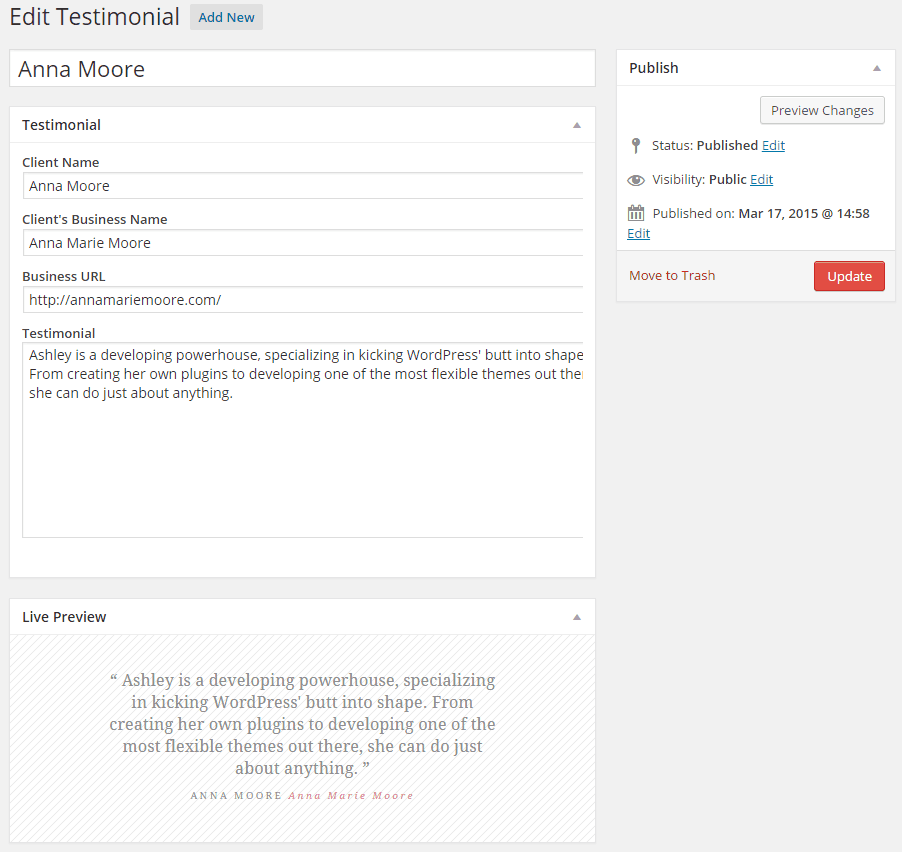 Your potential clients want to know what people think of your work and services. We totally get that. Since we understand how important this is, we've included a testimonial feature with the Noah theme. You can choose to display these testimonials on the homepage, or on all pages. And we'll randomly pick a different testimonial on every page load. Cool, huh?
You can add, edit, and delete testimonials just like posts. We've created user-friendly boxes for you to fill out so you don't have to do all that icky formatting yourself. We'll handle it for you!
But you know what the best part is? We wanted to offer a very WYSIWYG (what you see is what you get) experience. So, we coded a "Live Preview" box on the testimonial page. You can see exactly what your testimonial is going to look like.
Time to give it to you straight
You want ALL the details? Here's a list of all the features:
A fully responsive design.
A total of 10 widget areas. Three for the slide out panel at the top, three for the footer, one for each of the homepage columns (3!), and another for the full width area on the homepage.
Six custom widgets:

Browse: Combines the search form, category dropdown, and archive dropdown widgets. You get one, compact widget with all those features.
Callout: A call to action box with a coloured background.
Icon Box: We used this on the homepage of the demo site. Easily add any icon from Font Awesome above a normal text widget.
Latest Comment: Displays an excerpt from your latest comment.
Popular Posts: Displays a list of your most popular posts. You can choose to show the all time most popular, or only the ones from the last year, or only the ones from the last month, or only the ones from the last week. We love choices!
Social Media: Shows social media icons to all your profiles.

Translation ready.
Comes with a built-in image slider.
Easily add testimonials.
The visual editor is styled to look exactly like your theme.
Let's beautify your website with Noah ($39)
Your purchase includes:
A copy of the theme
Website, blog, and testimonial support
Access to the theme documentation
Lifetime* support
Automatic updates for 1 site for life*
* "Lifetime" or "life" refers to the life of the product—not your human life. As long as the product is being sold, you will receive support and updates.
Designed by Anna Moore
Noah was designed by Anna Moore and coded by myself.
Anna is a web designer with almost 20 years of design experience. She currently resides in the lovely state of Tennessee with her adopted fur babies (two cats, two dogs), and has an obsession with the ocean, Historical Fiction, flowers, smoothies, and video games.