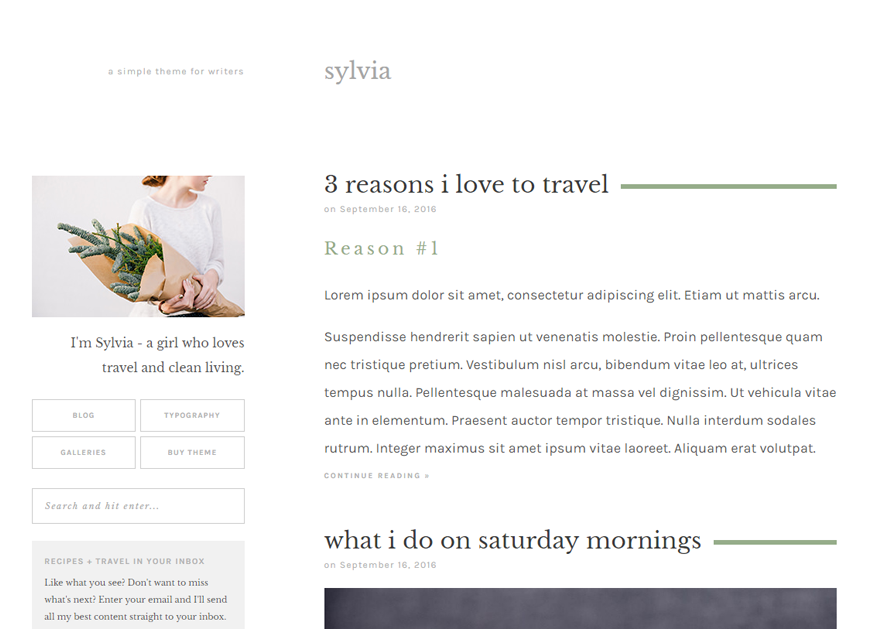 Comes with lifetime support and updates. (For the lifetime of the product—not your lifetime!
Requirements:
This product will ONLY work on self-hosted WordPress websites. It will not work on Blogger or on the free WordPress.com platform.
Simple, elegant theme for bloggers
Sylvia is a simple, minimalistic theme that will give your blog posts all the attention.
Beautiful, simple design.
Custom "About" widget (shown at the top of the sidebar).
Mobile responsive.
Translation ready.
Integrates well with the WP Instagram Widget.
Customize the accent colour (shown as green on the demo).
Automatic updates
When you purchase Sylvia, you are given a product key, which enables automatic updates for life! When the theme is updated, you will get a notification inside WordPress, prompting you to install the update.
Lifetime support
For the lifetime of the product, you are given premium customer support! You can submit a ticket if you have any questions and I'll be happy to help you get the theme set up and working properly.
---
Designed by Anna Moore
Sylvia was designed by Anna Moore and coded by myself.
Anna is a web designer with almost 20 years of design experience. She currently resides in the lovely state of Tennessee with her adopted fur babies (two cats, two dogs), and has an obsession with the ocean, Historical Fiction, flowers, smoothies, and video games.